THAI MAEDA
THAI MAEDA CORPORATION LIMITED
Construction and donation of toilet facilities to a local elementary school
2016.10.06
Thai MAEDA constructed and donated toilet facilities to Mab Yang Porn School
located in A.Pluakdang, Rayong in collaboration with YOKOHAMA TIRE MANUFACTURING (Thailand) and Thai Semcon.
The school serves 1,168 pupils together with 53 teachers, which until recently had insufficient facilities.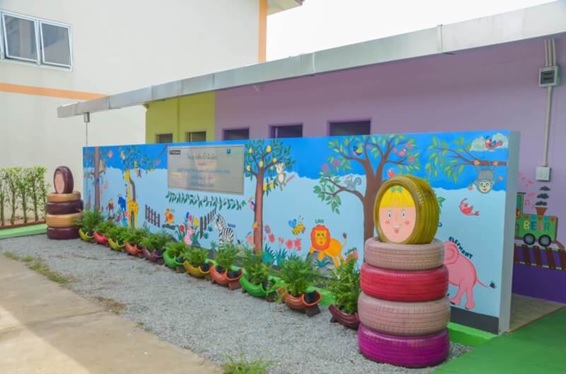 After completion and finishing with colorful paintings and ornaments including tires, the facility was handed over to the school on 20th September 2016. We were privileged to be thanked for our work in a special ceremony which included a letter of appreciation from the schools administration for our donation.
We strive to continue undertaking initiatives that are trusted by stakeholders through social contributions that take many different forms.